A very successful November, 2021 YWIH Event!
Welcome to Harmony Central's home page!
There are no featured events at this time! Feature some by checking the Featured Event box on the event edit screen.
September 30th - SAVE THE DATE!!!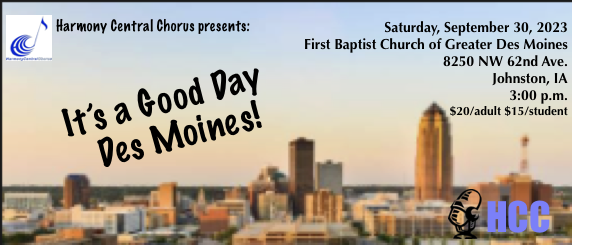 SAVE THE DATE !!!
September 30th Harmony Central Chorus presents "It's a Good Day Des Moines!"
You will watch a morning TV show come to life.
Location:  First Baptist Church, 8250 NW 62nd Avenue, Johnston
Time:  3:00 pm
Tickets are available by clicking on the "STORE" link at the top right of the screen:  $20 for Adults, $15 for Students (College & Under)