Chorus Leading Lady!
The S.A.L.L.Y. (Sweet Adeline Leading Lady of the Year) award is given annually to a member of the Harmony Central Chorus who has given of herself in an outstanding manner for the improvement and advancement of the chorus. The recipient is named each May at the installation ceremony.
Pam Redford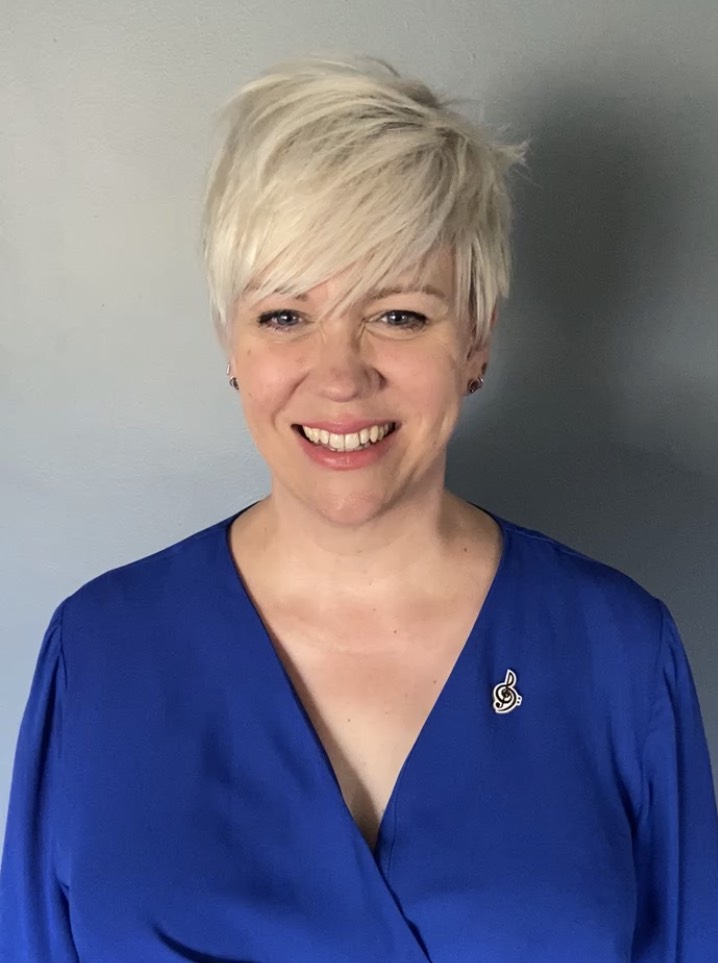 The past year has been like no other. The world and our chorus life was turned upside down and has yet to fully recover. As you have just heard, choosing the 2021 S.A.L.L.Y. from the list of deserving nominees was difficult!
This year's S.A.L.L.Y. has resilience and a positive attitude. She is persistent, caring and a good listener. She has the combination of qualities that make her a natural leader who gets things done, while encouraging, connecting with, and helping bring out the best in others. She is able to take the myriad demands for her attention and keep them in perspective.
She has shown dedication to Harmony Central, serving in many roles throughout her years with the chorus. 
Our S.A.L.L.Y. has served Harmony Central Chorus for the past 4 years on our Management Team. Through difficult times, her leadership has been a bright light and a positive, unifying influence in our chorus. For the time we have been physically apart as a chorus, she has been consistent in showing grace to all, and never losing sight of the need to keep us unified and strong.
As a part of the Music Team, she has shown leadership and a sense of joy in helping create fun and effective visual plans and physical warm ups for the chorus for several years. She has served as a section leader for the chorus and in our Young Women in Harmony event, joyfully participated in performances and competitions and volunteered to help with fundraising events. 
Her compassion and leadership have been just what we needed to survive the loss of our director and a pandemic. Obviously, she was not alone in leading, but there is no doubt that this past year for Harmony Central would have been a much bigger struggle without her leadership.
She has focus and determination.
She leads with kindness and humor.
She has so many pairs of Chuck Taylors. 
She is a great communicator. As a matter of fact…She can talk about almost anything and sound like she might know a thing or two about it!
I am sure that you all have guessed by now...but before I name this year's S.A.L.L.Y., let me just share a few thoughts from her nominators.
————
"Her willingness to work hard without ego, complaints or need for control is remarkable, and is such a great example"
_______
"She always has a happy face and something good to say."
_______
"The difficulties of the past year put her skills as a leader for Harmony Central Chorus to the test, and her focus remained on helping the Management Team make decisions that serve our members' needs, as well as showing grace to all."
_________
"[Her leadership has brought] us to new places, cheering everyone on, being the calm voice, and keeping positive while doing it. She has always been good at bringing the Team to consensus and giving voice to all the members.She is friendly with all, sings with a smile, patient while teaching choreo ... just a joy to be with on and off the risers."
_________
"She did a remarkable job keeping us safe and together over zoom during the horrible year of COVID. She has been uplifting and encouraging through it all."
 ————
 "Congratulations to Harmony Central Chorus' Sweet Adelines Leading Lady of the Year, Pam Redford!
 Congratulations, Pam! Thank you for all you do for Harmony Central Chorus!
 You are our S.A.L.L.Y. and we are all so lucky to have you as a friend and as part of HCC!